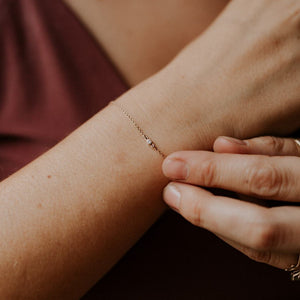 Need a repair? We got you.
 Accidents happen! Our permanent jewelry chains are durable enough for day to day wear yet thin enough to break away or be cut off during an emergency.
If your permanent jewelry breaks, put the chain in a small, secure bag and schedule a repair. 
Repairs for Lackadazee chains are $10.*
Need a repair on a bracelet that you didn't get from Lackadazee? No problem!
Repairs for Non-Lackadazee chains are $25*
*Additional costs may occur for heavy damage or a replacement.
Store Hours
Sunday - Tuesday | Closed 
Wednesday - Friday | 11am - 6pm
Saturday | 11am - 4pm
Walk-Ins
Walk-ins are available Wednesday to Saturday during open hours.
Please note: Priority goes to scheduled appointments.
We cannot guarantee a time slot for walk-ins.
Want to see if there's a wait? Call 502-242-7414 to check availability!